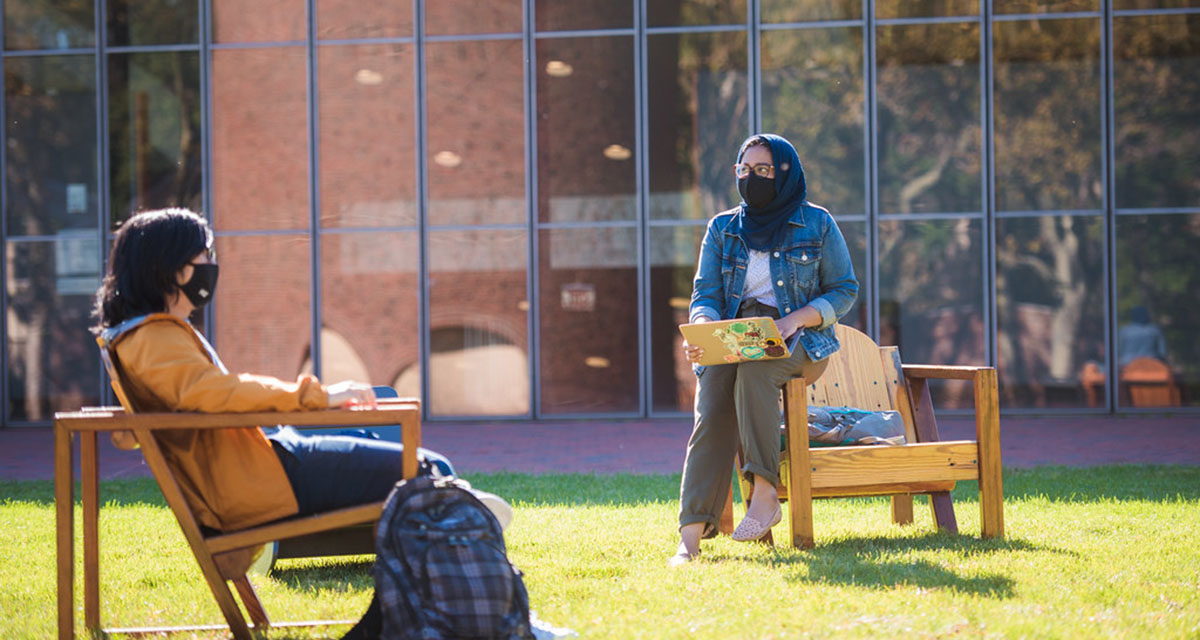 July 2020 progress
In summer 2020, amid the national outcry over the brutal killing of George Floyd, President Reif committed MIT to a series of actions to advance a more just and equitable future.
Institute holidays
Completed
Examine the roster of Institute holidays with an eye to equity and inclusion.
Current status
In September 2020, President Reif announced that MIT would change the name of the October holiday to Indigenous Peoples Day. Separately, in response to a recommendation by a working group charged to assess MIT's roster of Institute holidays, President Reif announced in May 2021 that MIT would adopt Juneteenth as an Institute holiday.
DEIC staff hires in schools/college
Completed
Hire a senior officer in each MIT school and the College of Computing to guide and gauge concrete progress on diversity, equity, inclusion and community.
Current status
MIT's five schools and the college have hired assistant deans for DEI, who have a dotted-line reporting relationship to the ICEO. The schools of Engineering, Sloan and Science have also appointed faculty to serve as associate deans focused on issues of DEI. And many academic departments have hired diversity officers. The ICEO is working with all new DEI staff and leadership to develop this cohort and promote Institute-wide collaboration in academic and administrative units.
MIT and Slavery
Ongoing
Continue to support the groundbreaking class "MIT and Slavery".
Current status
Prof. Craig Wilder continues to teach this subject, which explores the influence of slavery and race on MIT's founding and early development, and the connections between slavery and the development of scientific and engineering institutions in the Atlantic World.
Native Americans and MIT
Ongoing
Fund a new research project on the history of Native Americans and MIT.
Current status
With support from the Office of the Provost, the History section has offered the class "The Indigenous History of MIT" since spring 2021. In a spring 2022 letter to the community, President Reif described the steps MIT will take in response to the class's findings, and MIT News published an article with additional details.
Action plan for diversity, equity and inclusion
Ongoing
Engage the community in developing and implementing an Institute-wide action plan for diversity, equity and inclusion.
Current status
Following an extensive community engagement process, in September 2022, the Institute released the MIT Strategic Action Plan for Belonging, Achievement, and Composition. The plan is a framework to support local and Institute-wide efforts to advance practices, systems and behaviors that promote equity, value differences and establish conditions so that all members of our community can thrive. The 2022-23 academic year serves as a foundation year—a time for local units to collaborate and align their efforts with the framework proposed by the plan.
Graduate fellowships
Ongoing
Raise funds for new endowed graduate fellowships for students from underrepresented groups.
Current status
The deans of the five schools and the college together previously committed more than $17 million in endowed funds, and in summer 2020 the provost provided an additional $1 million in expendable fellowship funds. Resource Development continues to work with the schools and college, as well as the Institute community and equity officer, to refine an overall strategy to support new endowed graduate fellowship fundraising for underrepresented groups. Resource Development has developed tools and is providing guidance to help gift officers make the case for fellowships.
Antiracist research
Progress underway
Make a commitment of $1 million to antiracist research and seek additional funding sources.
Current status
The Office of the Provost has established the Racism Research grant program, a $1.2M pool to seed new areas of study, amplify existing activities, create links between related efforts across MIT, and establish connections with research at other institutions. The office has also provided a $150,000 grant to support the Initiative on Combatting Systemic Racism, which brings together faculty and researchers from all five MIT schools and the college, as well as partner institutions, with the aim of using big data to develop and harness computational tools that can help effect structural and normative change toward racial equity.
Purchasing and contracting
Progress underway
Increase purchasing/contracting with minority-owned businesses, including Black-led enterprises.
Current status
MIT's Small and Diverse Business Program continues to improve processes and resources for identifying small and diverse vendors on campus. It is working with several DLCs to analyze procurement activity and identify opportunities to spend with Black and minority-owned businesses. It has also engaged a vendor to build an application that will allow purchasers to search for suppliers based on demographic data and other attributes.
In fall 2021, in the Student Center, MIT introduced the Launchpad by Commonwealth Kitchen (CWK), a Dorchester-based nonprofit incubator that helps entrepreneurs in the food industry launch their brands. The majority of CWK businesses, including the three in the Launchpad, are minority owned.
Also in fall 2021, MIT joined the Black Economic Council of Massachusetts, a Boston-based statewide organization that works to advance the economic well-being of Black business, organizations and people in the Commonwealth.
Policing
Progress underway
Work with student leaders to review issues related to policing at MIT.
Current status
Since summer 2020, senior leadership has been meeting with Chief of Police John DiFava and student leaders to advance this priority. The MIT Police has posted an FAQ that responds to community inquiries, and the Institute has retained an outside consultant to work with a committee of faculty, students and staff to conduct a review of the MIT Police department's operations. Chancellor Melissa Nobles, Vice President and General Counsel Mark DiVincenzo, and graduate student Chelsea Nneka Onyeador, the committee's co-chairs, provided an update in July 2021.
Artistic/cultural responses
Progress underway
Appoint an ad hoc committee to recommend artistic/cultural responses to affirm and inspire our community.
Current status
At the provost's request, ICEO John Dozier and Associate Provost Philip Khoury are co-chairing the Ad Hoc Committee on Arts, Culture and DEI. The committee's charge is to examine the campus as an artistic expression of MIT's values and learning environment, and recommend ways to deepen our understanding of the Institute's history and project a more equitable vision for the future through digital, performing, physical and visual experiences. The committee has established three work groups, on people; digital, performing and visual experiences; and the physical campus.